Diagnostic Manual, Info./Comm., Volume 1
Diagnosis - Function Test


1. Prior to performing the Function Test, please review the following pages as well as the following Service Informations:
For Models 129, 170, 202, 208, 210 : P-SI-MBNA 82/112
(Sept 1998),
For Model 220: P-SI-MBNA 82.64/116 (March 1999)

Connection between the components:
The D2B ring (ring or closed loop) connects the COMAND (monitor) with the CD changer (CDC), the telelphone or Handy. The audio amplifier remains wired as before on models 129, 170, 202, 208, 210. The radio or COMAND take over the master function as Head Unit (HU) and realize as well the serial interface to the interior CAN bus ( model 220 with Multifunction Steering Wheel only), also see

11 /2 as well.

Acronyms:
HU = Head Unit (radio or COMAND)
CDC = CD changer
SBS = Voice activation system (VAS)


Ring-Loop sequence of vehicle/model/interface:
Model 129 HU - telephone (or TeleAid) - CDC - HU
Model 170 HU - telephone (or TeleAid) - HU
Model 202/208 HU - telephone (or TeleAid) - SBS - HU
Model 210 HU - CDC - SBS - telephone (or TeleAid) - HU
Model 220 HU - Sound - CDC - telephone (or TeleAid) - SBS
- optional Handy Interface - HU




The above Ring-Loop sequence displays the maximum component connections based on options. If one of the options is not supplied,
then the component is removed from the ring-loop and a new ring-loop sequence is established.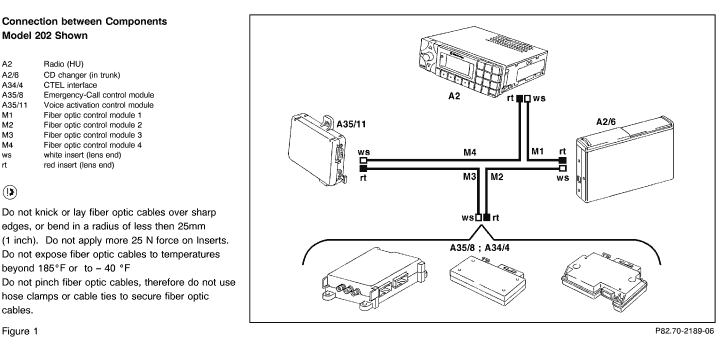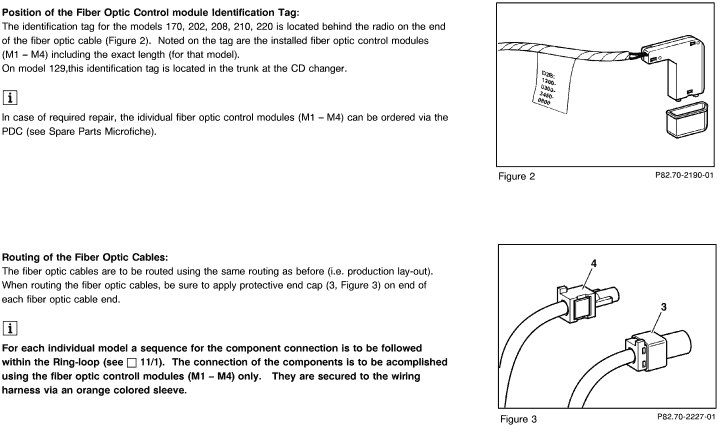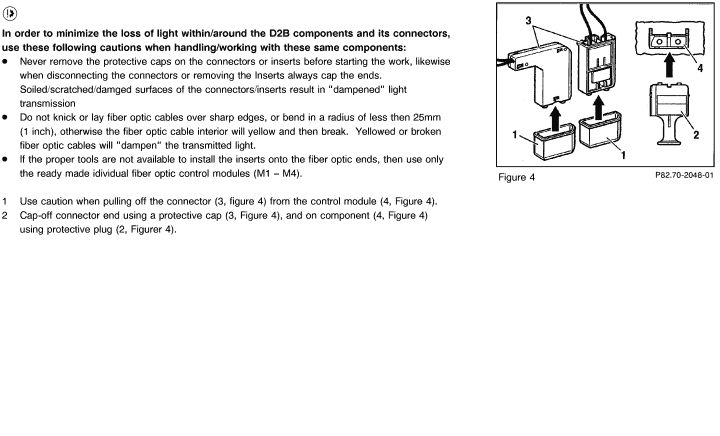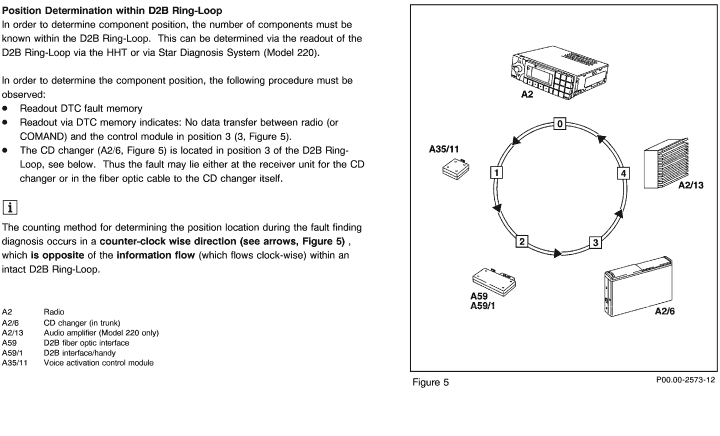 Preparation for Test:
1. Review pages:

11/1 -

11 /4,
2. Battery voltage: 11 - 14 V,
3. All fuses OK,
4. Determine Ring-Loop sequence (see

11 /1) and activate only one of the components,
5. Review vehicle Data Card (see owners portfolio) to determine factory installed options (may not be same for each vehicle) as installed on vehicle.
Test step/Test sequence
Test condition
Nominal value
Possible cause/Remedy
Activate D2B Ring-Loop
(CD changer, Code 819)

OR

Activate D2B Ring-Loop
(Voice activation system [VAS], Code 813b).

OR

Activate D2B Ring-Loop
(Telephone Code 316, 317)

OR

Activate D2B Ring-Loop
(Sound amplifier, code 810)
(Model 220 only)
Radio/COMAND: ON
Play a CD in CD changer



Radio/COMAND: ON
Press button/switch on push button control module



Telephone: ON




Radio/COMAND: ON

Digital Data Bus is activated, volume, tone and indications must be without interference.

Digital Data Bus is activated,
Peep tone is heard.





Digital Data Bus is activated.




Digital Data Bus is activated, volume, tone and indications must be without interference.
see 12